Wow...thanks everyone! I had so many messages/comments advising me what to do with the 14.5 yards of Cento - and not one person scolded me for creating a terminal earworm. Guess what song was going through
my
head the entire weekend. I think I'm going to try
Dee's
idea and make tassles for the ends of the Edgar scarf. I also really liked
nona's
idea of the strap for my camera condom but, like all good condoms, it fits my camera so tightly that I can carry it by its own strap (not that condoms have straps - least not last time I checked - but they are supposed to fit tightly). Lastly,
Zina's
link to the Threads article on
pin weaving stash yarn
blew me away. I'm thinking wall-hanging with my future odds and ends...
Friday afternoon, I finished my second Pretty Thing. I'm much happier with this one than the first, though not particularly thrilled with my technique in a few areas. I've decided to make the stitch detail for this lovely green creation my wallpaper for a little while - till I make something else big enough to qualify. Here are a couple pictures: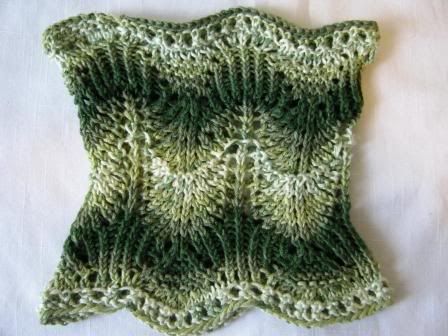 I also whipped out a hat to go with my MLB Playoff Jacket. It looks a lot better on my head than on the kitchen table.
I'm also messing around with some Lion Brand Jiffy yarn, making a hat and scarf from the "Handknit Holidays" book
It's going really well, and I love the color of the yarn, a tan blend which for some unfathomable reason Lion decided to name "Camel Spray". Um...do they know anything about the mental image that conjures up? Camel spray, indeed...ugh... Gorgeous yarn, though. Pics later this week!
Now...what's with "Chomp...gulp..."? Well, Your Everyday Garden-Variety Renaissance Woman has very well bitten off a bit more than she can chew. In my throes of knitting passion, I signed up for
Susan Pandorf's Evenstar Mystery Shawl Knitalong
. I've done a little lace knitting in my time but, folks, I'm knitting with freakin'
THREAD
here (albeit, lovely thread). See....lovely!
Oh, and it will have beads on the edging. This will be yet another new challenge, and I'll be blogging my progress or lack thereof. But my first challenge, before I can begin, is to find myself some good sharp needles for lace knitting. Nothing in my arsenal comes close to what I need. So, my question for today is: Knitting needles for lace, discuss pro and con. What do y'all recommend?