Starting Out
How and when did you begin knitting/crocheting? was it a skill passed down through generations of your family, or something you learned from Knitting For Dummies? What or who made you pick up the needles/hook for the first time?
Welcome to Knit and Crochet Blog Week, and for those of you who are reading for the first time, Welcome to my (usually) happy little corner of the blogosphere! For those of you who have been with me thus far on my short adventure into blogland, you'll recognize this post from back on February 17 (with some minor editing) and don't need to read further unless you want a recap (or you want to look at all those funny old pictures of me...). I promise my future posts for Knit and Crochet Blog Week will be more original and not a repost.
Although I don't know the exact date, I know it was just around Valentine's Day 1979 that I locked myself in my apartment for the weekend, vowing never to emerge until I had learned to knit.
My path to knitting actually started when I was in elementary school.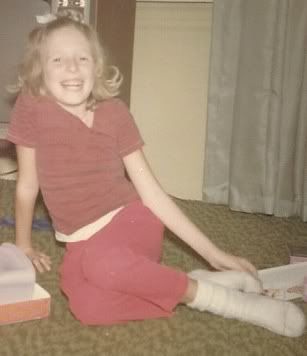 I come from a long line of knitters, crocheters, and seamstresses, so it was naturally assumed I would fall in line. I'm not a good line faller-inner... I was a tomboy. My best friends were Rick and Daniel, and we roamed the fields around our houses, catching bugs and snakes and not doing anything even remotely domestic. Okay, there was that one time when I was about ten and told Rick I would teach him to cook Swiss Steak from my mother's recipe. I can still see him lying on my garage floor, laughing helplessly with tears pouring down his cheeks after I held up a big pink sponge and said, "Step One - pretend this is a piece of steak!" So much for domesticity... I did get better at the cooking part.
Although my childhood summers were fairly idyllic by 1960s standards, I waited in dread each summer for my mother to spring one of the Four Nightmares on me. Not content to allow her only child to run wild in the fields, skinning her knees and bringing home whatever wildlife she could catch, my mother had goals for me. Every summer, my mother set out to teach me to knit, to crochet, to sew, and to read "Gone With the Wind" with her. Hell hath no fury like a mother on a mission.
That's my mom. She was about 21 in that picture, five years before I came along. It is one of my favorite pictures of her because it captures her spirit. Mom was a creative tour de force. There was nothing she couldn't do. She was a professional steamstress who could sew anything, even wedding gowns. She could knit and crochet beautiful sweaters and afghans. She could draw and paint. She could play guitar and organ. She should have been on the road with some R&B band instead of living in a small town raising a daughter. Whenever I hear Booker T or Jimmy Smith, I hear my mother playing her B3 in the dining room. She was that good. And she wanted her only daughter to be that good, too. Here's a pic of an afghan my mother crocheted behind a sewing table that my father made for her (he was a pretty talented guy, too!):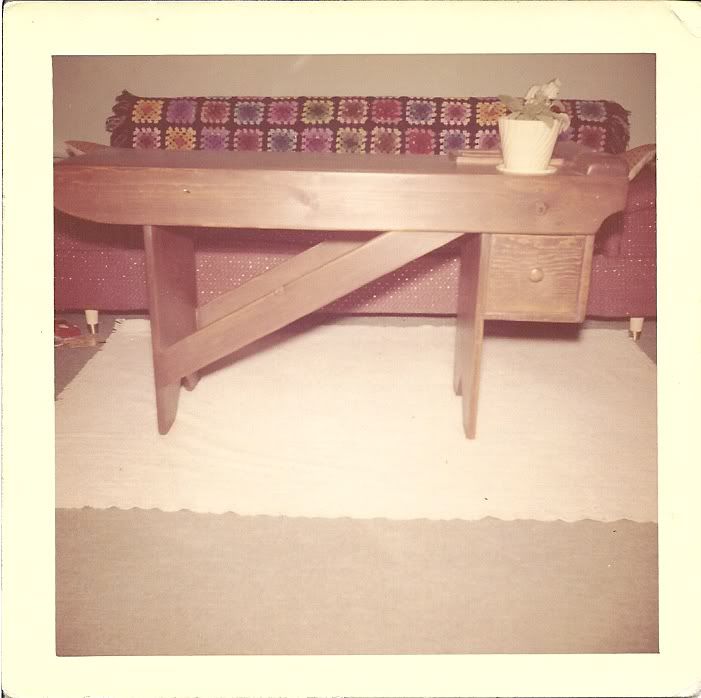 Sewing lessons were the worst. I was good at pinning and cutting out the patterns, but after that, I was lost. What? I have to put these pieces TOGETHER????? I'm good at jigsaws, but I could never figure out pattern pieces. I'm the same way with knitted sweaters. I'll stare at a front, back and two sleeves for hours trying to figure out how they go together. I've probably made fifty sweaters in my life and I go through the same routine every time...stare...pin...stare...repin...stare...stare...stare... Sewing lessons usually ended with me in tears, throwing fabric and thread and stomping off to my room.
Knitting lessons were much the same. Like all beginners, my work was tight...and that throwing the yarn thing...it just did not work. More than once I considered committing harikari on the needles...but they were weird flexible plastic, and they just bent.
Crocheting was easier, though I never worked on it past that one day each summer, so it was always like starting from scratch. The crochet bug finally bit me the summer I turned 12, and I decided I liked it enough to stick with it.
Oh...as for GWTW...I still haven't made it past the first chapter...or the first 30 minutes of the movie either.
So, I began crocheting little potholders and doily-ish things. True confession: I LOVE to crochet doilies! A couple years later, I found a needlepoint book in the library written by former NFL-player, Rosie Greer. The tomboy in me rejoiced - if HE could do needlepoint, surely I could too! Dad took me to Woolworth's and bought me a needlepoint kit which I finished in about two canvas-obsessed days. Now I could crochet AND do needlepoint! Stamped cross stitch was next on my list of crafts. I started looking at the drug stores for McCall's Needlework and Crafts magazine. Sometimes they had a crochet pattern or two, sometimes (though rarely) needlepoint. Mostly all they had were those lovely knitting patterns...patterns I couldn't make to save my soul. I will toss in here that the summer lessons ceased when I began crocheting obsessively. That was also about the time adolescence kicked in, and I figure my mother knew she had enough problems without trying to push the sewing, knitting, and GWTW on me anymore.
My mother and I survived (barely...) my teen years, and I moved an hour away to the "big city" and began working. One of the things she gave me when I left was a crochet hook holder with a nice little double-crocheted cover and many of her duplicate crochet hooks. I cherished this - it was something that had been around the house my entire life - a family heirloom!!! It was my ex-husband who finally one day asked why I kept my crochet hooks in an old Carling Black Label beer bottle with a fancy cover...
On and on I went, needlepointing, crocheting mass quantities of doilies...until that one day in 1978 when I went to a bookstore during my lunch hour and saw it:
I pored over the book, anguished over the price and my inability to make one darn thing in it. But for months, every payday I would go to that bookstore, buy a few magazines, and lust over Barbara Walker's Treasury of Knitting Patterns. I was particularly in love with the Frost Flowers pattern - it's on the cover of the reprinted edition above, but I stumbled across it on page 204 and was (still am!) totally enamored. I wanted to learn to knit if for no other reason than to knit the Frost Flowers pattern.
It took an ugly breakup right before Christmas, a horrific blind date shortly thereafter, and being alone on Valentine's Day to spur me into knitting action. One Friday, I bit the bullet and bought that Treasury of Knitting Patterns. It cost over $30 in 1978 - a lot of moola for yer average secretarial-type gal!!! On the way home from work, I stopped at a department store and bought some yarn (Red Heart, no doubt...) and a pair of #8 needles, then went to the grocery and bought the ingredients for a big pot of chili. Yup, I was locking myself in and not coming out till I could knit!!! I also knew I'd be eating chili for a long time since I'd spent a goodly chunk of my grocery money on that pattern book...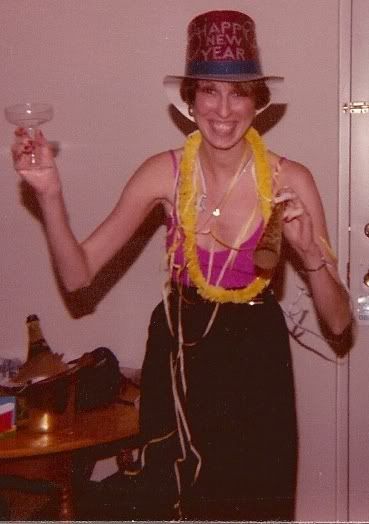 Me, about two months before knitting entered my life...really...I am a VERY unhappy woman at this point.
Amazingly, it went well. I could remember how to do the knitted cast-on that my mother showed me so many years before. Then I was stumped...what to do next? I knew there was something about throwing the yarn around the needle with my right hand, but no matter how I tried, I could not do it right. I took a break and ate some chili, then spent the rest of the evening drooling over the patterns that I dreamed I would one day be able to make. The disco music was blaring from the club across the street, where I was usually a Friday night regular...but I had bigger fish to fry - I was learning to knit!!!
The next morning, after a breakfast of chili (I was 22, remember...), I sat down with my supplies and began to cast on again. This time, for some reason I will never know (Intuition? My Inner Knitter?), I held the yarn in my left hand, the way I did when crocheting. My cast-on was even, and...holy guacamole!!...I WAS KNITTING!!!!! Purling took a few more hours to figure out and, truth be told, I twisted my purl stitches for several years before I figured out what I was doing wrong and corrected it. I made tons of twisted-purl stitch little baby sweaters for all my friends. Six years later, I designed and knit a gorgeous Aran sweater for my ex-husband...and all the purl stitches were twisted.
Fast forward thirty years, and knitting is as natural to me as breathing. I've taken on other craft challenges, such as bobbin lace and while I love a lot of different crafts, I always come back to knitting. It's my home base, my heart in knit and purl.
My first (and so far only Fair Isle Sweater, knit in 1992. You can tell from the hair, right?).