I feel like frickin' Goldilocks!!!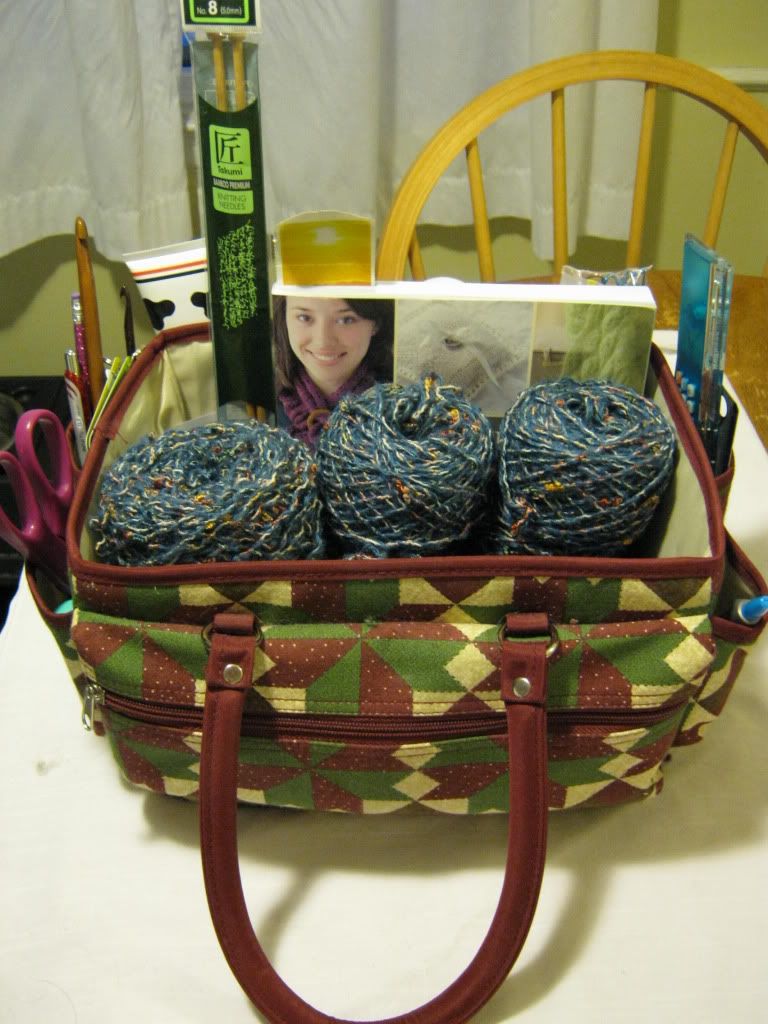 My bag was packed, I was ready to knit...and knit I did! I only looked up from my work during dramatic moments in the opening ceremony...kd Lang's glorious version of "Hallelujah" and the mechanical malfunction. Couldn't they have crushed up a few of those little blue pills and poured them in the mechanism to get that thing to...rise...??? I knit about 11" of my scarf with the old, old yarn. Then I put it down and went to bed for the night.
I got up this morning all excited to photograph my amazing progress...until I picked up my knitting. Ugh...it all came back to me...why this yarn had been frogged from a sweater I made with it and hated, tossed into a grocery bag with nothing more than a label with the needles recommended for gauge (#8) and crammed into the bottom of one of my stash bins.
The yarn looks lovely and blue in the ball...kind of like faded denim once knit. The colorful, shiny slubs help somewhat, but it just doesn't look as good once knit. Worse...if you knit with the recommended needles, size 8, the knitting is heavy and hard as a rock, with no drape. This is a scarf...I NEED drape!!! It was also so tight that the yarnovers were pretty much invisible.
I photographed my work, made coffee and headed off to read the paper and stew about this a while.
After much stewing, breakfast, and a shower, I got out bigger needles, size 13, grabbed another ball from the knitting bag and started knitting. This was much better, nice drape, but the yarnovers were too big, so I frogged again. I got a pair of 11s and tried again...SUCCESS!!! As Goldilocks would say, "It was just right!" Nice drape, visible but not honkin' big yarnovers...even the color looks nicer. I reknit about 6" of the scarf before having to head off to other things, and I'll be a much happier knitter for my troubles. Granted, it will probably be the world's widest scarf, but a scarf with nice drape it will be. It won't weigh my shoulders down to wear it. YAY!!!!
If any folks from Columbus, Ohio, are reading and looking for something fun to do tonight between 8pm and midnight...come on out to the India Oak and catch my husband's band, The Subterraneans. Great obscure and not-so-obscure rock covers, and a lot of fun at a neighborhood bar with fabulous subs and chili. No...I won't be doing any knitting tonight...but if I remember my camera, I will post pictures.