At 12:30am Sunday, while watching a fabulous documentary on Mahalia Jackson, I finished the
Long Forgotten Yarn Scarf
. My medals are duly posted, and no, I don't expect anyone to kiss them (VBEG!!) It was a lot of fun making this scarf, and I feel downright diva-ish wearing it. It is one substantial scarf, even though it looks more like a pair of bizarre bell-bottom pants in this pic... Ruffles, folks, think ruffles...
I still have about four balls of the mystery cotton left and am trying to figure out what to do with them...some kind of little shawlette, I think.
You'll notice I changed the background pattern. I decided it would be a cool, fun thing to have the background of my blog reflect the stitch pattern of whatever project I'm working on. However...this is NOT the project I'm currently working on, it's a scarf I designed and made for P back in 2007. More info on the
Don't You Dare Lose This Scarf
can be found on my Ravelry page by clicking the link. Since I wasn't able to get a good closeup of the stitch pattern for my new project, I decided to use this one as a placeholder. Love the scarf. Love the fact that Mr. Loses Every Scarf He's Ever Owned still has this one three years later! Is he a great guy or what?
Last night, I joined the small but welcoming group of Knorthside Knitters. We had a lovely time knitting and chatting. My newest project is the
Edgar scarf
from the Fall 2005 Knitty. I'm using the Cento I had left over from the Sideways Hat and calling it
"Edgar Cento"
. Has a nice ring to it, don't you think? Here's a picture, but it really doesn't do the colors justice. It's a dark, gloomy, rainy day here, so natural light is pretty dim.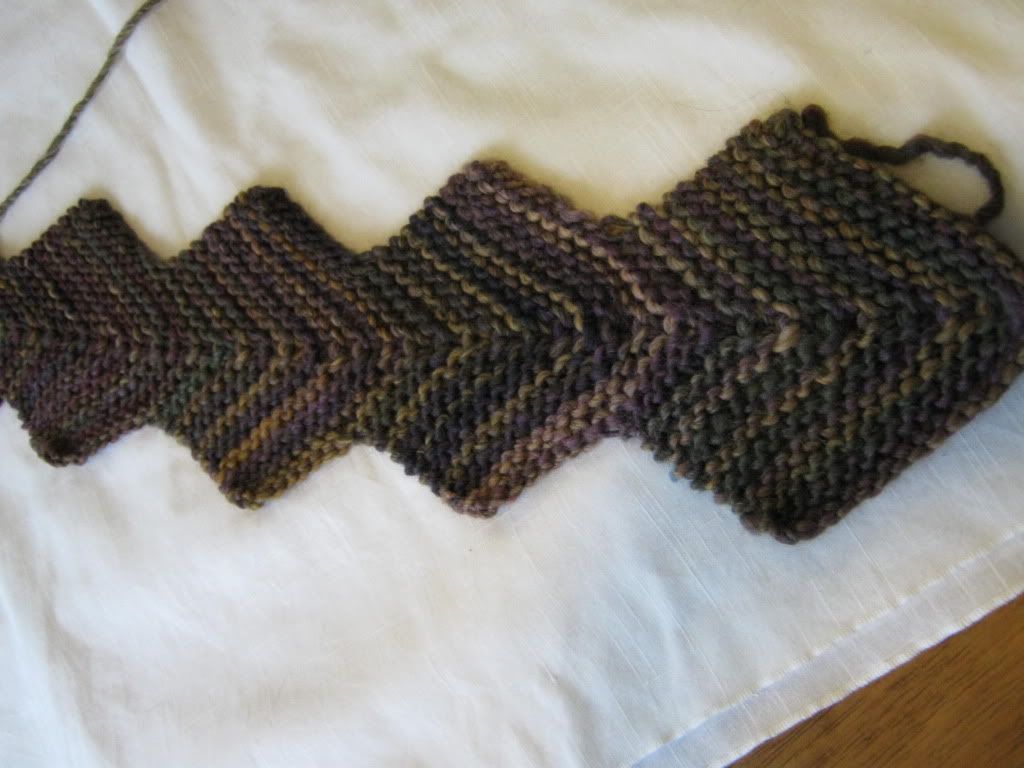 I am also making another attempt at the
Pretty Thing Cowl
using the Serenity yarn I picked up a JoAnn last week. Only two rows in, it is already going better. I may end up loving this pattern after all. I think me and Mini Mochi just aren't meant for each other, sad to say.
We are experiencing our "spring thaw" here in Ohio...PRE-spring thaw is probably more accurate since we can get ice and snow all the way into April. P and I took Wilbur to a park near our house to try out his snazzy new harness and get some fresh air for all of us. Here are some pics (The
hat
and
cowl
I'm wearing are knit from some Jaspe Wool I had left over from a shawl. You can click on the links for more info on my Ravelry page). Oh, and thanks to P for taking the pics of Wilbur and me. You rock, Dude!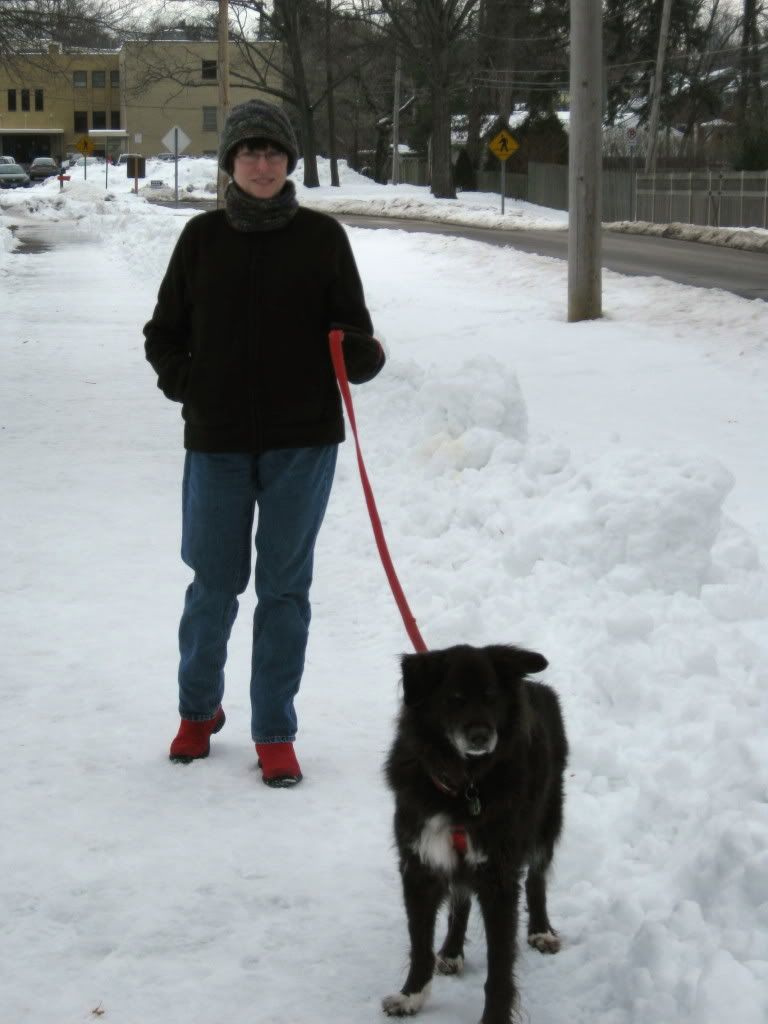 And a couple pics of the creek running along the path: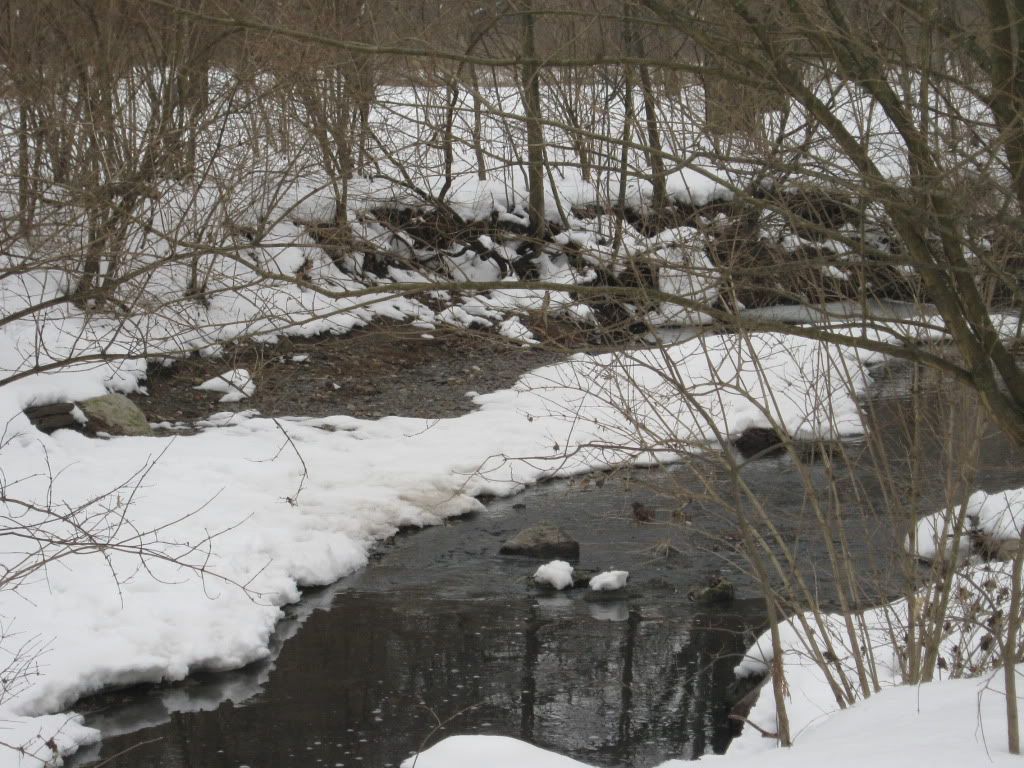 There is also good news on Wilbur's tummy! I am cautiously optimistic that we have finally solved the problem of the acid reflux - and without giving him a lot of medicine! I spent all day Friday researching home cooked diets and the problems he has been having and got the great idea to give him a small meal right before he goes to bed and immediately when he wakes up in the morning. We are on the third day of this regime, and my pupster is happy, energetic, and non-urpy again! WOO-HOOOO!!!!
This will be a busy week for me. I am planning to get together with two knitting groups this week, plus my Tuesday night choir rehearsal.
And...if I didn't need any other reason to want spring to arrive, I want to show off my Aerosmith toenails!
"Aerosmith toenails?", you say...well...what would YOU call them? The name of the color is..."Jaded"!